Affinity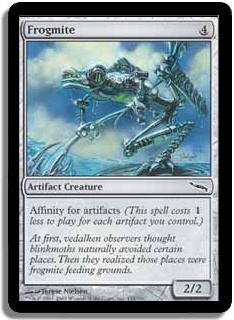 Affinity is a permanent ability that makes the card cost 1 (colorless) for each of the affinity type (Affinity for "type here".) A card with Affinity will say "Affinity for..." and then say the type of affinity it has. This ability was introduced in the Mirrodin block, and is generally found on Artifacts. There are some that say Affinity for Artifacts, but a string of Golems have an affinity for lands.
There are 5 Golems with the affinity for lands. They are:
Related Threads
The Affinity Challenge
- last post by
@ May 20, 2006
Affinity Challenge (A Mode I Made Up)
- last post by
@ Dec 8, 2005
Earth and Heaven Affinity Questions
- last post by
@ Mar 8, 2006
What affinity is your birthday month?
- last post by
@ Jan 30, 2007
The Affinity Challenge
- last post by
@ Apr 2, 2006