Blademane Baku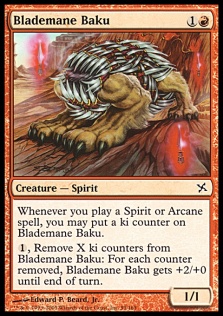 Blademane Baku
Type(s):
Creature - Spirit
Description:
Whenever you cast a Spirit or Arcane spell, you may put a ki counter on Blademane Baku.
, Remove X ki counters from Blademane Baku: For each counter removed, Blademane Baku gets +2/+0 until end of turn.
Converted Mana Cost:
P/T:
1/1
Block:
Betrayers of Kamigawa
Rarity:
Common
Card #:
95/170
Artist:
Edward P. Beard, Jr.
Last edited by
Henshu
on 8 July 2010 at 17:33
This page has been accessed 119 times.