Mage's Guile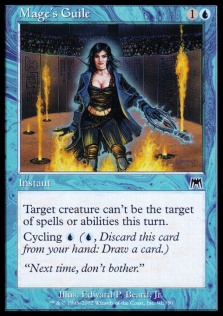 Mage's Guile
Type(s):
Instant
Description:
Target creature gains shroud until end of turn. (It can't be the target of spells or abilities.)
Cycling (, Discard this card: Draw a card.)
Flavor Text:
"Next time, don't bother."
Converted Mana Cost:
Block:
Onslaught
Rarity:
Common
Card #:
91/350
Artist:
Edward P. Beard, Jr.
Last edited by
Henshu
on 9 July 2010 at 16:36
This page has been accessed 91 times.