Magic The Gathering: Duels of the Planeswalkers
Magic the Gathering: Duel of the Planeswalkers

Duels of the Planeswalkers for Xbox360 Arcade
Developer(s)
Stainless Games
Publisher(s)
Wizards of the Coast
Platform(s)
Microsoft Windows, Xbox 360, PlayStation 3
Release Date(s)
Xbox 360

June 17, 2009

Microsoft Windows & PlayStation 3

2010
Genre(s)
Collectible Card Game
Modes
Single Player, Multiplayer
Rating(s)
T (Teen)
Magic the Gathering: Duels of the Planeswalkers was released as a arcade game for the Xbox360 on June 17, 2009. This game puts the popular Magic the Gathering card game into a video game based format. Each player can duel against the AI (computer) or have at it against other players over XBL (XboxLive). This will later be released to the PS3 as a download for PSN (Playstation Network) in early 2010. Players will take pre-made decks, which at the beginning will be very small in number, but as you progress through the game you will unlock special decks and certain cards that can be inserted into these decks.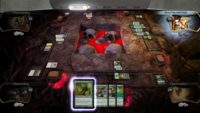 [edit]
How to Play
This game will follow the basic rules of how the actual card game will go. There are 6 phases. Draw Phase, Upkeep, Main Phase, Battle Phase, and a 2nd Main Phase, and the final End Phase. You will be able to play Land's, Creatures's, Insant's, Sorceries, Enchantments, and even Planeswalker's! You use the combination of Lands to create Mana which you can use to summon creature or cast other spells. You will play against the AI or in multiplayer where your opponent and you have 20 life. The 1st person to lose all their life loses the game. If you win a duel you can unlock cards or entire decks.
[edit]
Plans for a PS3 and Microsoft Windows Port
Stainless Games has stated that they are soon going to be porting Magic the Gathering: Duels of the Planeswalkers onto the PS3 (download-able through Playstattion Network) and as a download-able game for the Microsoft Windows Operating System sometime in 2010.
Related Threads
Announcement of MtG: Duels of the Planeswalkers
- last post by
@ May 2, 2013
Neoseeker reviews Magic: The Gathering -- Duels of the Planeswalkers 2012
- last post by
@ Jun 23, 2011
Neoseeker reviews Magic: The Gathering -- Duels of the Planeswalkers
- last post by
@ Jun 21, 2010
Magic 2015 - Duels of the Planeswalkers debuts on iPad, exclusive until next week
- last post by
@ Jul 14, 2014
Magic: The Gathering -- Duels of the Planeswalkers 2014 core decks, opening trailer revealed
- last post by
@ Jun 9, 2013