Premium Deck Series: Slivers

Premium Deck Series: Slivers was released November 20, 2009 and is the newest premium deck series to date. This time, it focuses around one of the most deadliest creature types throughout Magic The Gathering history: Slivers. These masses of nature are not only strong by themselves, but almost all of them pump up other slivers with some type of ability. These creatures can become a massive threat to any type of deck, no matter what color, creature type, or build you have. If you want to experience exactly how powerful these creatures are, go pick up this Premium Deck today, because odds are, there won't be many for much longer!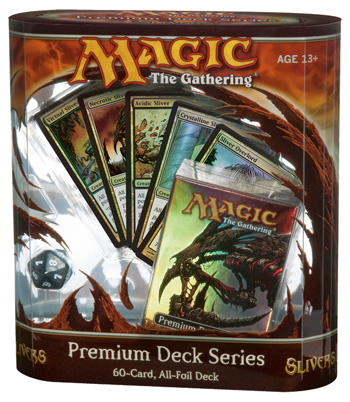 [edit]
Spotlighted Cards
Sadly, in this Premium Deck, there won't be much new for Slivers, but this pack comes with 1 Mythic Rare and 5 Rares! The mythic rare card is the one and only Sliver Overlord who is able to bring slivers from your deck and put it into your hand! This can make it so your army is built faster than normal, but it costs 1 of EVERY color mana to summon.
[edit]
Card List
There are a total of 60 cards in this deck series, however there is also a Card Pack and the cards in that are random.
[edit]
Slivers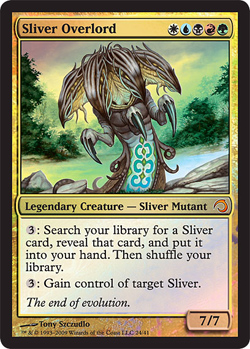 Land: 25
2 - Ancient Ziggurat
5 - Forest
2 - Island
3 - Mountain
2 - Plains
1 - Rootbound Crag
2 - Rupture Spire
2 - Swamp
2 - Terramorphic Expanse
2 - Vivid Creek
2 - Vivid Grove
Creatures: 30
1 - Acidic Sliver
1 - Amoeboid Changeling
1 - Armor Sliver
1 - Barbed Sliver
1 - Brood Sliver
1 - Clot Sliver
1 - Crystalline Sliver
1 - Frenzy Sliver
1 - Fungus Sliver
1 - Fury Sliver
2 - Gemhide Sliver
1 - Heart Sliver
1 - Hibernation Sliver
1 - Homing Sliver
2 - Metallic Sliver
1 - Might Sliver
2 - Muscle Sliver
1 - Necrotic Sliver
1 - Quick Sliver
1 - Sliver Overlord
2 - Spectral Sliver
1 - Spined Sliver
1 - Victual Sliver
2 - Virulent Sliver
1 - Winged Sliver
Enchantments/Insants/Sorcery's/Artifacts: 5
1 - Aphetto Dredging
1 - Coat of Arms
1 - Distant Melody
1 - Heartstone
1 - Wild Pair