Ronin Houndmaster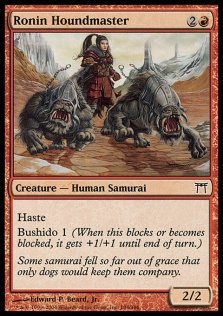 Ronin Houndmaster
Type(s):
Creature - Human Samurai
Description:
Haste
Bushido 1 (When this blocks or becomes blocked, it gets +1/+1 until end of turn.)
Flavor Text:
Some samurai fell so far out of grace that only dogs would keep them company.
Converted Mana Cost:
P/T:
2/2
Block:
Champions of Kamigawa
Rarity:
Common
Card #:
184/317
Artist:
Edward P. Beard, Jr.
Last edited by
Henshu
on 8 July 2010 at 17:43
This page has been accessed 78 times.