Duel Decks: Jace vs Chandra

Released November 8th, 2008, The 2nd installment in the Duel Decks series (preceeded by Duel Decks: Goblins vs Elves), Jace vs Chandra is the first planeswalker duel that has been introduced into the Magic The Gathering series. It sports 2 Mythic Rare cards and 6 rare cards and plenty of alternative art for older cards, and some newer cards too! This is a classic red vs blue, or if you will, Water vs Fire type of style seeing as Jace is blue and Chandra is red. The two planeswalkers who make their appearance are Jace Beleren, the young wizard who is adept in the manipulation of reality and Chandra Nalaar, the burning hot fire mage who's got an fiery attitude and the power to boot! These two powerful warrior go at it in an epic fight, using their vast amount of influence over each of their elements, trying to best each other. The duel decks also come with special deck holders! Jump into the experience and pick up a Duel Decks: Jace vs Chandra while you still can, because there probably aren't many left.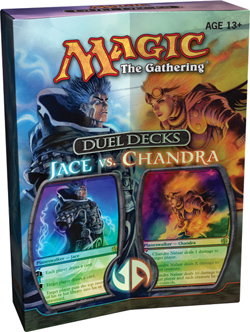 [edit]
Spotlighted Cards
There are a very cards within the duel decks that are spotlighted because of rarity. First we'll cover the two planeswalkers, Jace and Chandra who were not only foil, but also got new alternative arts! The other cards are just alternative arts, really, which include Fact of Fiction, Seal of Fire, Incinerate, and the most famous blue card throughout the game Counterspell!
If you want to see these cards, look at the bottom of the page for the gallery.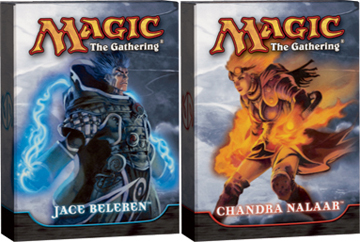 [edit]
Card Lists
There are 60 cards in each deck, so there's many different combinations of what exactly you can do with this vast majority of blue and red. Heck, you can even mix them together if you want and create the ultimate blue and red deck.
Main Deck
60 Cards

| | | |
| --- | --- | --- |
| 24 Lands | 24 Creatures | 12 Other Spells |
| | | |
Main Deck
60 Cards

| | | |
| --- | --- | --- |
| 25 Lands | 20 Creatures | 15 Other Spells |
| | | |
[edit]
Spotlight Cards
Related Threads
Magic: The Gathering -- Duels of the Planeswalkers 2014 core decks, opening trailer revealed
- last post by
@ Jun 9, 2013
Magic: The Gathering - Duels 2013 deck pack 2 launches
- last post by
chautemoc
@ Dec 5, 2012
Magic: The Gathering -- Duels 2013 guild-themed deck pack released
- last post by
chautemoc
@ Nov 8, 2012
Magic: The Gathering - Duels 2013 expansion 2 decks revealed
- last post @ Dec 4, 2012