Fascist Art Director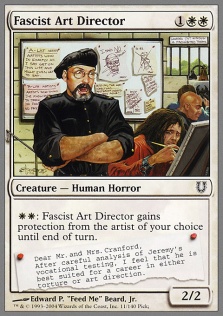 Fascist Art Director
Type(s):
Creature - Human Horror
Description:
: Fascist Art Director gains protection from the artist of your choice until end of turn..
Flavor Text:
Dear Mr. and Mrs. Cranford,
After careful analysis of Jeremy's vocational testing, I feel that he is best suited for a career in either torture or art direction.
Converted Mana Cost:
P/T:
2/2
Block:
Unhinged
Rarity:
Common
Card #:
11/145
Artist:
Edward P. "Feed Me" Beard, Jr.
Last edited by
Henshu
on 13 July 2010 at 11:48
This page has been accessed 220 times.